Request basketball team clothing
Burned basketball clothing information Associations and Teams
Thank you for being interested in Burned basketball uniforms for your team or association! Below you will find information about what we can do for you.
Introduce!
This is Casper Cox, manager teamwear @ Burned and he is always there for you!
For quotes you can email Casper directly at [email protected]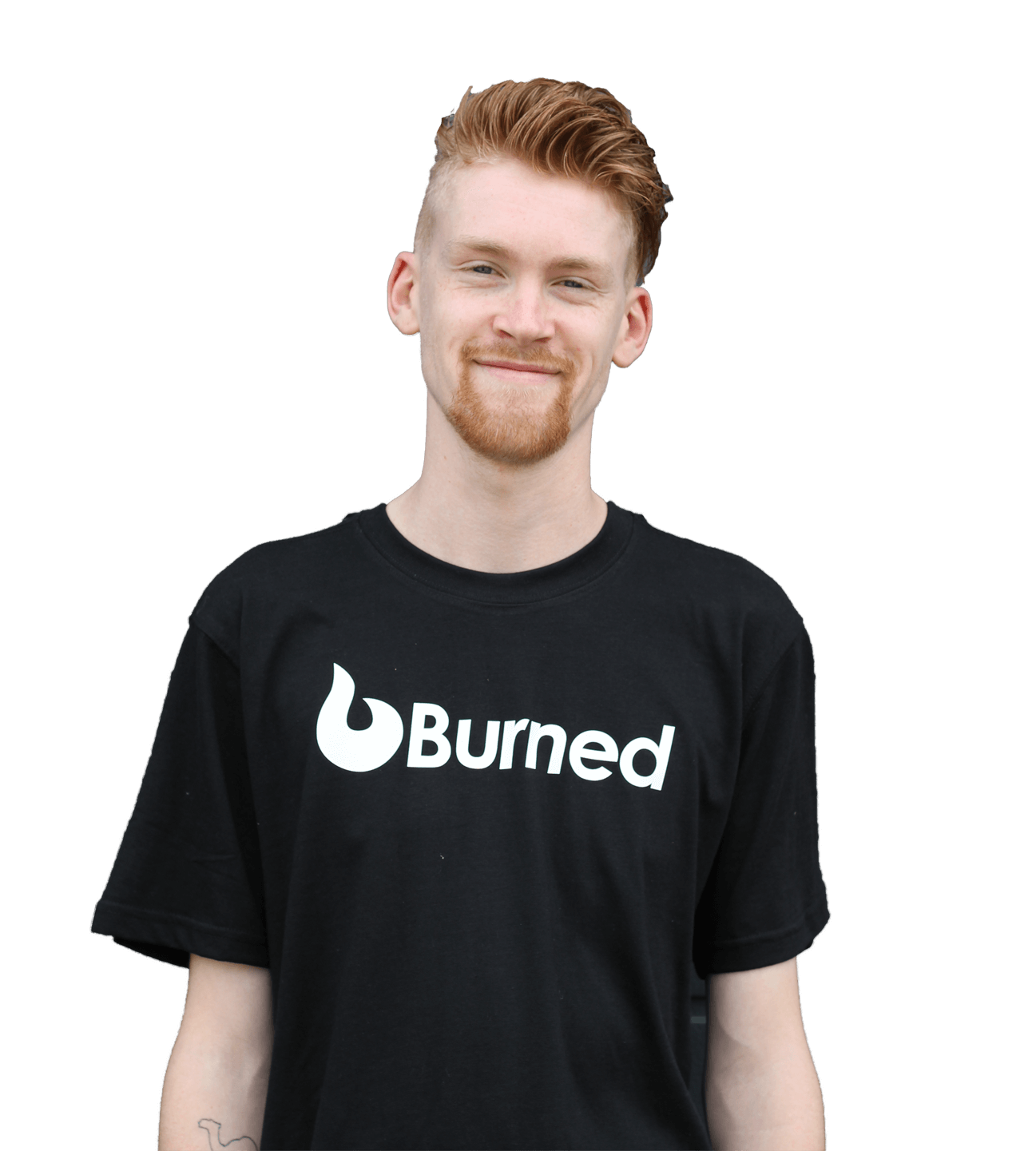 What are the options in suits?
Uniforms are available in two types of fabric, these are the sublimation sport fabric and scrim sport fabric. The quality of the fabrics of the sublimation and scrim uniform are the same.
What is sublimation?
Sublimation is a technique where all printing in the fabric of the outfit is included in full color. This gives you complete freedom in the design of the outfit and you can make it as crazy and colorful with colors and logos as you want. Because all printing is integrated, the price of sublimation kits always remains the same and independent of the amount of printing. There is a quantity discount with a larger purchase.
The sublimation kit always comes in a single-sided version! Instead of a reversible outfit, we always recommend choosing 1 pair of shorts and 2 shirts per player for sublimation kits.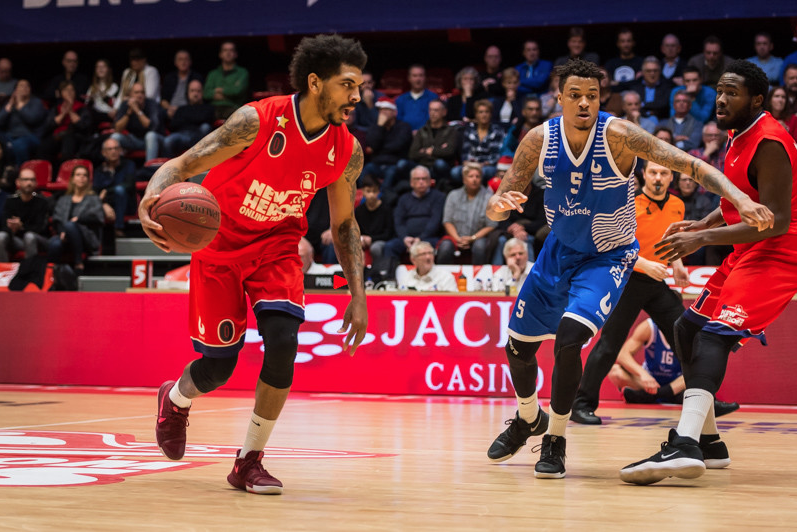 Above you can find an example of the sublimations of suits Burned makes for the players from the Eredivisie New Heroes from Den Bosch and Landstede from Zwolle. (Copyright New Heroes).
Sponsoring sublimation kits.
With sublimation tenues there is also the option to let us act as a sponsor! We then place our Burnedsports.nl logo on the front of the shirt. You will receive an additional 5% discount on clothing for this. 
Click here to request a quote directly!
Klik hier om direct een offerte aan te vragen!
What is scrimmage sports fabric?
The scrimmage kit is a kit that is made up of different colored fabrics. A print is then made on this outfit. Each print requires an extra operation, which causes the price to increase per extra print required. The basic scrimmage kit (available in a reversible and single-sided kit) is a lot cheaper than the sublimation kit and therefore it is often cheaper to choose a scrim kit as few prints are required.
Above you can find an example of the scrimmage kits Burned Sports makes for the Dutch Eredivisie Champion 2016, 2017 and 2018 Donar from Groningen. (Source: RTVnoord.nl Copyright: JK Beeld)
Click here to request a quote directly!
Tenue design.
What's up with that?   Our in-house designer and teamwear manager Casper makes a tailor-made outfit for the club according to the wishes of the club. You don't have to worry about this, Burned will provide you with a super cool outfit!
Click here to request a quote directly!
Club web shop and merchandise.
We have also recently made club merchandise for many associations. What makes us unique is that all members can place individual orders for a merchandise item of clothing and we can guarantee a short delivery time. At the moment our standard collection consists of a club outfit, crewneck (sweater), training longsleeves, shooting shirts and t-shirts in different colors on which clubs can choose multiple designs.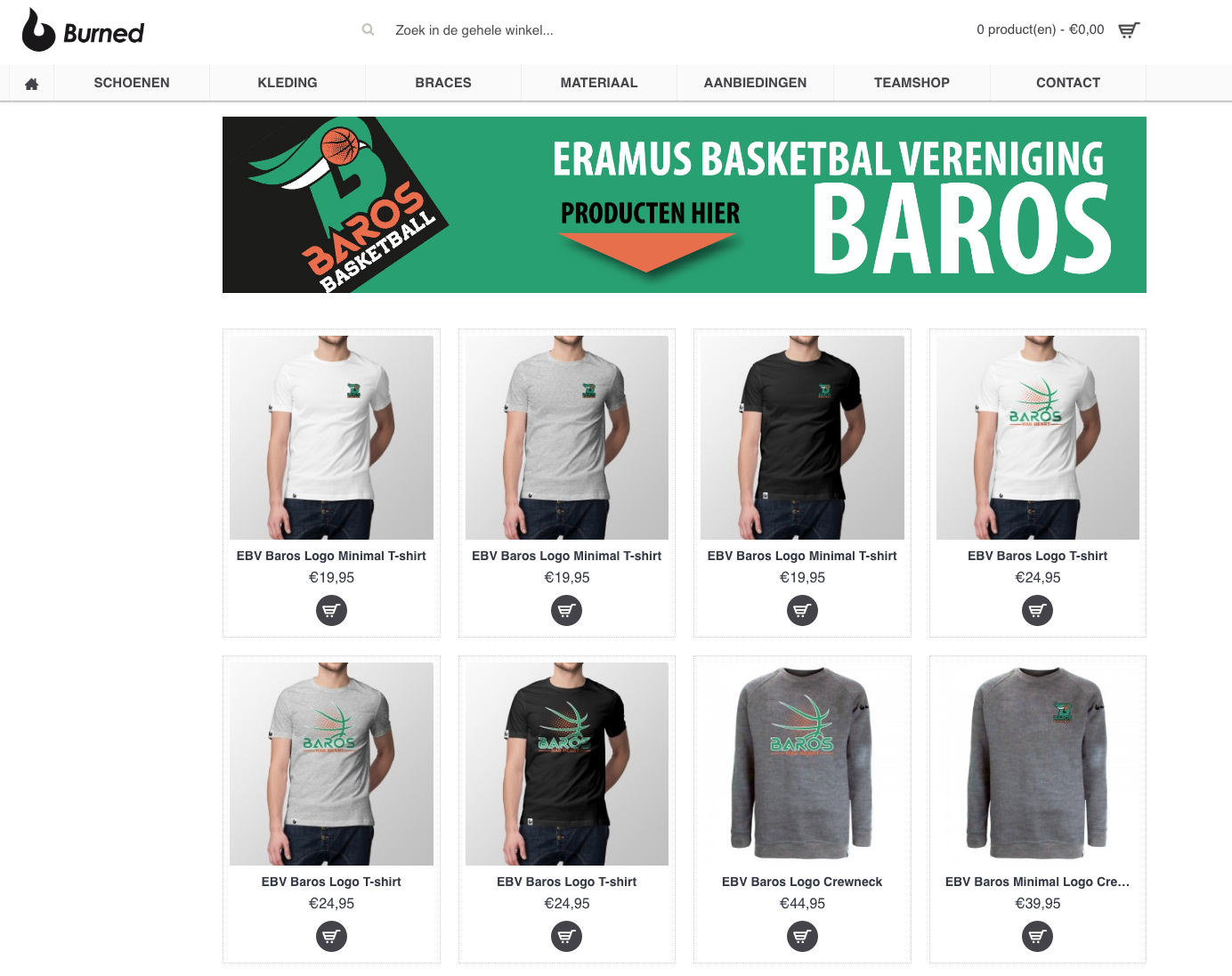 Above you can find an example of a club webshop that Burned Sports makes for EBV Baros from Rotterdam. We can also make such a merchandise shop for you! The only thing that we ask for is a button in the main menu of the club website that links directly to your merchandise shop in our website, so that members know where they can find the clothes. We are responsible for the costs of designing the club web shop and designing the clothing. As an association, it is therefore free to have a club webshop made and it is so easy!
Request a FREE club webshop for your club here!