Wie kent hem niet? Michael Jordan de naam die wereldwijd een belletje laat rinkelen. Als je hem niet kent vanwege zijn geweldige basketbalspel zul je hem vast wel door andere dingen kennen zoals deJordan basketbalschoenen, Space Jam, de McDonalds reclame of de Chicago Bulls.
Nike
Wat veel mensen denken is dat Jordan een merk van zichzelf is, maar dat is niet zo, Air Jordan begon namelijk als subcategorie van Nike maar is uitgegroeid tot een eigen grotere lijn maar behoort nog steeds tot Nike. Ook best grappig om te bedenken dat Michael Jordan voor zijn eerste deal die hij met Nike had getekend maar $500,000 kreeg in 5 jaar. Hoewel dat enorm veel geld is was het in vergelijking met watNike basketbaleraan verdienen relatief weinig want de Jordan brand is in Mei 2016 getaxeerd op 2,8 BILJOEN.
Hype
De impact van Michael Jordan en zijn Air Jordan lijn bij Nike was enorm groot. Zo groot dat  er maar liefst 34 verschillende modellen Jordans uitgebracht zijn en dan hebben we het alleen over het model van de schoen want daarnaast zouden er gemiddeld ook meer dan 1,200 verschillende colorways zijn uitgebracht. Wat Jordan en zijn designer team al die tijd zo enorm goed hebben gedaan is om de trends van vandaag te blijven volgen en deze op een bepaalde manier toe te passen in hun schoenen of in hun marketing, zo zie je dat nu ook weer de Air Jordan 1's enorm populair zijn en dat de Jordan sneakers enbasketbal schoenen ook nog steeds erg gewild zijn.
Exclusive
Zoals ik al zei zijn er enorm veel colorways en collaborations uitgebracht door Air Jordan en hierdoor zijn er dus ook enorm veel exclusieve paren, hieronder hebben we een lijstje gemaakt van de duurste en meest exclusiefste Jordan sneakers die er zijn gemaakt.
10. Air Jordan 8 Retro Kentucky Madness PE |  $7,000
De Air Jordan 8 Retro Kentucky Madness werden gedebuteerd door niemand anders als Drake toen hij in 2017 kwam opdagen bij een college wedstrijd van de Kentucky Wildcats. Deze sneaker werden omdat ze om Drake zijn voeten werden gepresenteerd ook bijna onmogelijk om te kopen maar als het je wist te lukken om ze te kopen was de uitbetaling het zeker waard.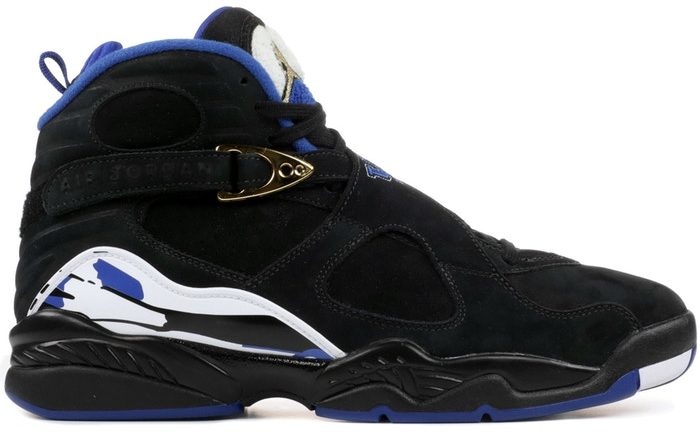 9. Air Jordan 5 Retro Transformers | $7,471                                                                           
Om de release van de film Transformers : The Last Knight in 2017 te vieren teamde Jordan samen op met Mark Wahlberg om een exclusieve promotie sample te maken met de Air Jordan 5 schoen. De uiteindelijke schoen werd alleen gegeven aan de cast van de film, omdat dit daardoor dus zo'n exclusieve schoen werd steeg de prijs als een raket.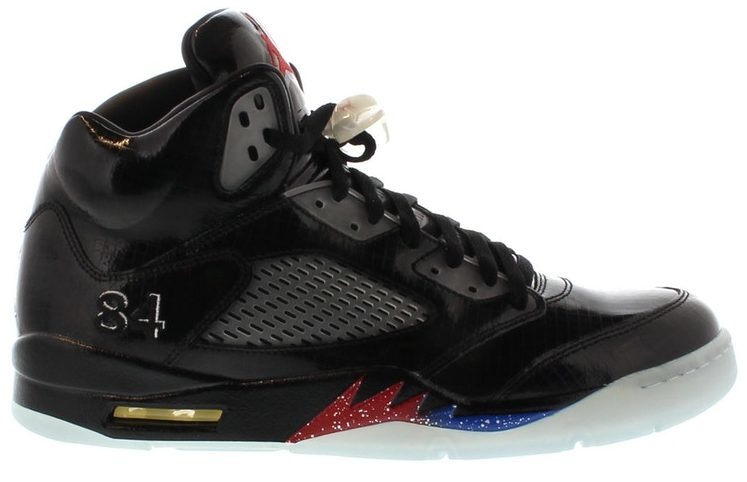 8. Air Jordan 3 Retro DJ Khaled Grateful |  $7,733
het is geen geheim dat DJ Khaled veel waarde hecht aan het hebben van bijzondere en exclusieve Jordans. Zijn liefde voor de schoen werd na een tijdje getransformeerd in een samenwerking. Na het ''Grateful'' album van DJ Khaled in 2017 kreeg Khaled zijn eerste eigen signature sneaker als cadeau van Jordan. De sneakers zijn zelf nooit officieel uitgekomen en zijn daarom zo erg in prijs gestegen.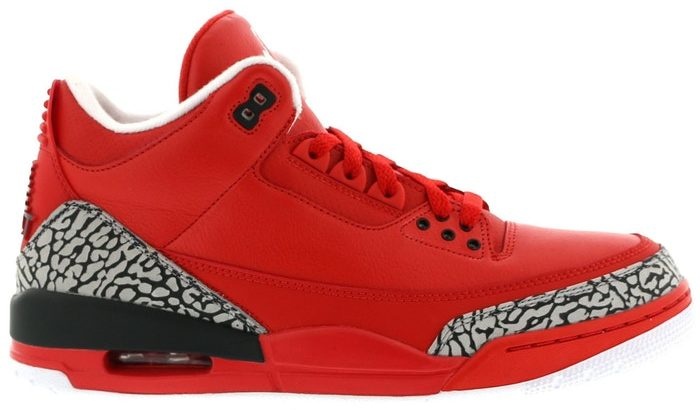 7. Air Jordan 3 Retro DJ Khaled Father of Asahd | $8,759
Another one! Het lijkt wel een soort traditie dat elke keer als DJ Khaled een album uitbrengt hij een nieuwe signature schoen als cadeau krijgt van Jordan. Zo kreeg Khaled ook bij de release van het het ''Father of Asahd'' album een nieuwe Jordan 3 ook deze schoenen zijn nooit officieel uitgekomen.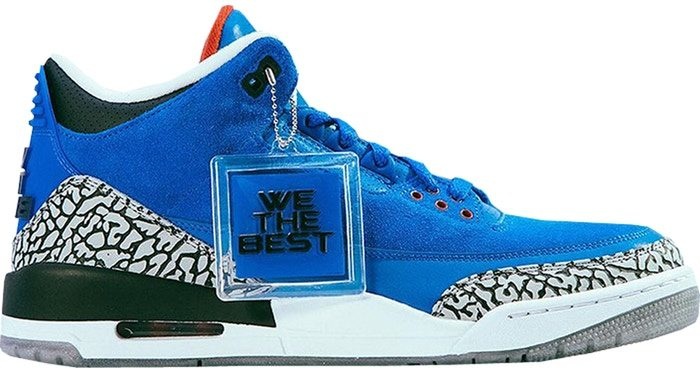 6. Air Jordan 3 Retro Legends of Summer | $9,250
Het moment dat Jay-Z en Justin Timberlake het nieuws uitbrachten dat ze samen de Legends of Summer Tour gingen doen in 2013, wisten we dat het iets speciaals was. Wat niet iedereen verwachtte is dat Jordan bezig was met een colorway samen met Justin Timberlake zelf. Een van die colorways is de rode Legends of Summer retro 3. Deze zijn toen de tijd wel officieel uitgebracht maar er was een gelimiteerde voorraad dus ze waren al snel uitverkocht.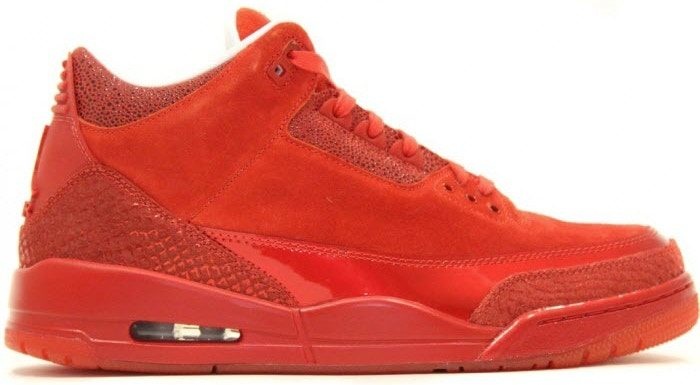 5. Air Jordan 4 Retro Eminem Carhartt | $9,971
In November 2015, teamde Jordan samen op met Eminem voor een exclusieve colorway voor de Air Jordan 4 die het 15 jarige bestaan van Shady Records zou vieren. Deze schoenen waren alleen beschikbaar voor een korte tijd op Ebay en al het geld waarvoor de schoenen werden verkocht ging door naar de Marshall Mathers Foundation, een organisatie opgericht door Eminem zelf die probeert de jeugd van detroit van de straten te krijgen. 

4. Air Jordan 4 Retro Wahlburgers | $11,000
De schoenen werden als eerste gespot in een paar restaurants van Mark Wahlberg, veel mensen dachten dat het een normale nieuwe colorway zou zijn, totdat Mark later toegaf dat het een collaboration was tussen Jordan en zijn eigen fast-food keten. Ondanks dat de Jordan sneakers nooit officieel zijn uitgekomen heeft Mark wel 30 paar van de schoenen beschikbaar gemaakt voor het publiek in de vorm van een raffle.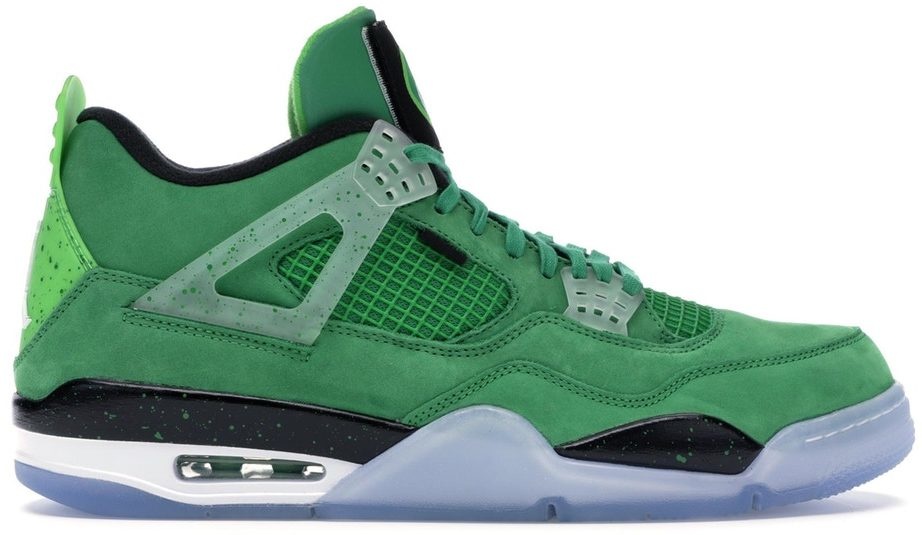 3. Air Jordan 4 Retro Undefeated 2018 Sample | $15,750
Bijna 13 jaar na de officiële release Air Jordan 4 X UNDFTD kwamen er afbeeldingen online van de zogeheten sample van de eerste editie van de schoen, waardoor het internet wild werd en zichzelf ging afvragen of de schoenen een re-release zouden krijgen. Het antwoord daarop was Nee… hoewel de Sample editie van de Air Jordan 4 nog wel bestaat is hij zo limited dat het een van de meest exclusiefste schoenen van Jordan is geworden.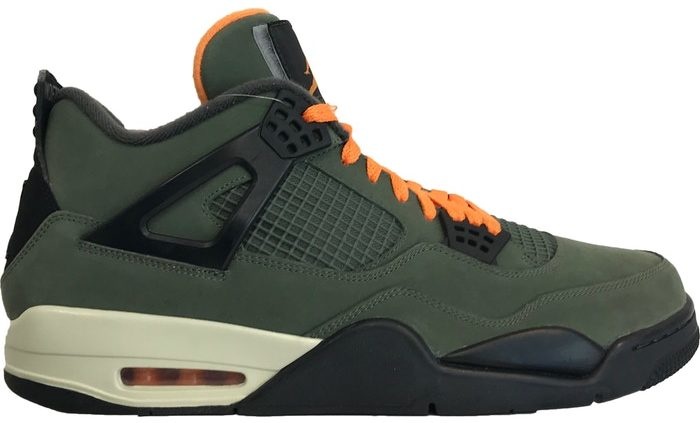 2. Air Jordan 4 Retro Eminem Encore 2017 | $18,000
De Jordan 4 Retro Eminem Encore 2017 is een schoen die beschikbaar gemaakt werd voor een kort moment, Eminem had namelijk besloten om op StockX een raffle te starten voor de schoen om geld op te halen voor de Marshall Mathers Foundation. De schoen zou maar 23 keer zijn gemaakt, vandaar de absurd hoge prijs.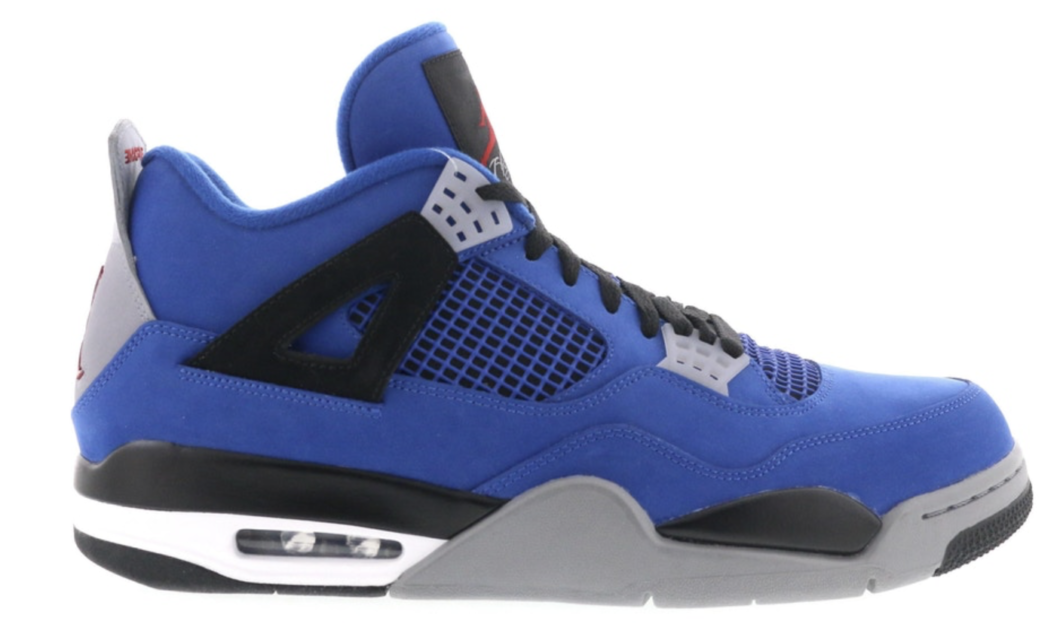 1. Air Jordan 12 Flu Game (Gesigneerd) – $104,000
De ''Flu Game'' voor elke NBA fan een indrukwekkend moment in basketbal geschiedenis, Micheal Jordan liet zijn ware kracht en doorzettingsvermogen zien de avond dat hij in Game 5 stond tegen de Utah Jazz in 1997, hij had namelijk die avond een griep te pakken waardoor hij zich helemaal niet lekker voelde maar alsnog besloot hij door te spelen en de winst te pakken waardoor Michael Jordan later voor de 5e keer NBA kampioen werd. Na de wedstrijd gaf Jordan zijn schoenen persoonlijk aan de ballenjongen van de Chicago Bulls die ze later op een veiling aanbood voor een startbedrag van $5,000. Een paar biedingen later werden de schoenen verkocht voor een recordbedrag van $104,000